Letters about Tee Shirts
I got a little package in the mail today....8-)....and I knew right away it was from Donna......8-) I didn't even look at any of the other mail.....I just came to my chair and opened this very special package! I wish I could show all of you how beautiful my Tee is.....8-) The "Cyber Sisters" logo really looks great on the pink.....8-) I can't wait till tomorrow cause I'm going to wear my CS Tee to work ....and it will be worn with pride and love in my heart.......8-) Donna, I can't even begin to tell you how special this is and what it means to me...8-) You are a true Cyber Sister!!! Thank you from the bottom of my heart! You are a peach and I love ya......8-) Here I thought it would be at least another 3 or 4 days before I got my Tee...what a surprise......8-) I just love it.....love it.... love it......love it.....8-) God bless you!! You girls are really going to love your T's too.......what a great job you did Donna! Thanks again.........8-) ((((((HUGS)))))) Love ya, Kathy

I GOT MAIL!!! I got the t-shirt in the mai today! Got the mail on my way to work and knew what that large package was immediately - poked my finger in the corner as I was driving; pulled and tuggd and finally caught a red light and tore open the top and peeked inside - TISSUE PAPER....OOPS - GREEN LIGHT....GOTTA MOVE ON...finally got to work and as soon as I was parked I opened it. OOH MY - it's soooo nice!!!! Wow - so much work put into this. All I can say Donna is thanks so very much and I sure am glad I read the posts in the ng and I voted!!! This is so neat - I told a lot of my friends at work about my mail and I am going to wear my shirt to work today and wear it very proudly!!! Donna, you're such a sweetie! Thank you so much. I will also get a pic done for you - hang this group of pics proudly dear sis! Again, thank you so very much Donna! Love ya bunches!!!!!!!!! Sheryl

I got mine in the mail just now..I know my mouth must have dropped down to my feet! Donna it is so beautiful! When I tod my husband that you had "hand-painted" them, he looked at me like "yeah, right...isnt that the iron on transfer?"... said, "you know I havent gotten any transfer paper" He picked our shirts up and looked again and said. "Man, this is amazing"..... Thank you ever so much Donna...I willsee Phyllis tomrrow and you will hear from her soon... I wish you would let me pay you for this....you will definately get a photo from Phyllis and me LOL Thanks again! I LOVE IT! :-))))))))))) LUCILLE  

MAIL HAS ARRIVED Hi Donna, Just wanted to let you know that myT-shirt arrived in the mail today. It is abosolutely gorgeous. I just love it!!! I really don't know how to tell you how much I appreciate all the work you put into these lovely shirts. Not only are they a work of art they are also a true gift from the heart. It is something I will treasure for a long long time. Thank you so much for caring and sharing your talents with your sisters. Take care and God bless. ((((((HUGS)))))) Betty

Got my beautiful Tee!! But I do not know how to compile all the girls addys as I only have a portion of their addy's in my address book I am afraid I will miss someone and do another boo-boo. Do you have any suggestions? My tee is adorable. Thank You my friend. The additions were great. I will not mention it in my reply as I dont know if you added anything to any of the other girls tees.I am famous for makeing boo-boos. Let me know if you can help me.  Janice   (your lighthouse lady)

I GOT MY TEE!!! I got my shirt in the mail and i couldn't wait to open it! It's so BEAUTIFUL i was speechless!!    Donna, you are a very special lady to do such a sweet thing for us. The artwork you have done is simply breathtaking, i will wear mine proudly and i am honored to have you as my cybersister! Thank you so much my friend! luv ya sis!!!! Noreen

You're A Good Friend! Oh Donna..honeeeeey..I LOVE IT... LOVE IT... LOVE IT !!!!!! It's sooooo pretty! You REALLY did a great job! My Daughter and Grand daughter were here when it came and they had a FIT too.LOL I want to thank you from the bottom of my heart Donna.I know how busy you are and all with the storm damage and your parents.And to think that you went to all this trouble for me just makes me want to cry.I promise to take a picture as soon as I can and send it to you.Thank you so VERY much. Your Sis Shelby PS.....This is how I feel about you Donna..

HI I am sorry that i did not get to put something on your page that they made you for you. I did not know that they were doing it last night. Gerri May 18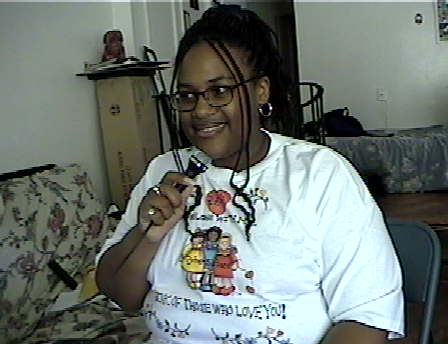 The day the tee arrived .Dana with a bigggg smile.

Ohhhh Donna; What can I say except...THANK YOU!!!!! The tee arrived & I wore it to the beach as a cover-up. It is adorable and did generate conversation. The painting is beautifully done. I truly luv it! Gracias, Merci, Danke!!!!
Lesley June 1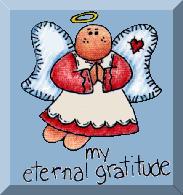 Hiya!! It's so weird that you wrote. I was getting on the web to write to you. LOL THANK YOU THANK YOU THANK YOU!! I got my shirt on Tuesday. Sorry I haven't written until now... I havent been home. But.. I have to tell ya. I wore it yesterday and I showed it off at work and then again last night while I was out. Everyone loved it as much as I did. Thank you again sweetie! You are so talented. I can only think about things like that. Im so not craftsy.. LOL Wish I was though. I'd put nice flower wreaths around my new house.. ha ha! Oh well.. gotta run. Life never stops around here lately. LOL Thanks again! I LOOOOVVVEEE IT!!! Love your sis, Debbie

June 7
Donna....... I received my T-Shirt today!!!!! Just can't seem to find the words to say how much in awe I was of the beautiful art work. You really made my day.....I just love it, Thank you so much. HUGS!!! ~ ILA ~

Donna, I really wanted to thank you so much for the T-shirt. It turned out beautiful. I absolutely love the grapes you added. I am just tickled tickled tickled!!!!!!! I will be getting a picture of it soon. If you want me to send you one let me know. Fantastic work you do. It was sitting here waiting for me when I got home from vacation :) What a nice surprise:) Thanks again, Jenn
Jenn supplied this photo.